Ever wondered what keeps a bicycle balanced as it glides down the road? It's a question that puzzles many, yet the answer lies in the intriguing interplay of physics and skill.
Bicycles, with their two slender wheels and lightweight frames, seem to defy gravity, providing a stable ride for those who master the art of balance.
In this article, we delve into the core principles that make this possible, exploring the role of speed, the dynamics of steering, and the rider's crucial contribution to stability.
Whether you're a cycling enthusiast or simply curious about the mechanics of balance, this piece promises to shed light on the fascinating world of bicycle stability, offering practical insights and expert tips to enhance your riding experience.
So, hop on and let's embark on this journey of discovery together!
The Physics of Bicycle Balance
Understanding the Basics of Balance and Stability
When we talk about bicycle balance, we're diving into a fascinating world of physics and intuition. Bicycles are unique in the way they balance, and it all comes down to a few fundamental principles.
The centre of mass, gravity, and the forces at play during motion are the unsung heroes that keep us upright on two wheels.
It's a delicate dance between these forces that allows a bicycle to stay balanced while moving, yet tip over when it comes to a standstill. Think of it as a game of push and pull, where the bicycle is constantly seeking stability, and it's our job as riders to help it find that sweet spot.
The Role of Speed in Bicycle Stability
Now, let's talk about speed – the secret ingredient to bicycle stability. Have you ever noticed how a bicycle becomes easier to balance the faster it goes? That's the gyroscopic effect in action.
It's like the bicycle has a mind of its own, wanting to stay upright as long as it's in motion. This doesn't mean you should go racing down the street, but understanding how speed affects balance is crucial.
It's a bit like learning to ride a bike all over again, but with a deeper appreciation for the forces at play.
Steering Dynamics and Balance
And then there's steering, the unsung hero of bicycle balance. It's a bit of a paradox; while we steer to change direction, we're also steering to maintain balance.
When we lean into a turn, it's the bicycle's steering response that keeps us from tipping over. It's an intuitive dance between rider and bicycle, a delicate balance that relies on both parties working in sync.
So, the next time you take a turn, remember, it's not just about changing direction; it's about finding balance in motion.
pedalling and steering; it's about mastering the art of balance. From the way you position your body to how you distribute your weight, every move you make affects the bike's stability.
For those just starting out, it might feel like a juggling act, but fear not! With a bit of practice and a few tips up your sleeve, you'll be cruising with confidence in no time. Remember, it's all about control and finding that sweet spot where everything just clicks.
Common Challenges and How to Overcome Them
Of course, the road to perfect balance isn't always smooth. Sharp turns, sudden stops, and the dreaded uneven terrain can throw even the most experienced riders off balance. But don't let that deter you! With a bit of know-how and some quick reflexes, you can navigate these challenges like a pro.
It's all about anticipation and staying calm under pressure. So, the next time the road throws you a curveball, you'll be ready to tackle it head-on.
Advanced Riding Techniques for Balance
For those who've mastered the basics and are hungry for more, there's a whole world of advanced riding techniques waiting to be explored. From track standing to precision steering, these skills take balance and control to a whole new level.
But beware, these techniques are not for the faint of heart. They require practice, patience, and a dash of daring. So, if you're ready to take your riding to the next level, strap on your helmet and let's dive in!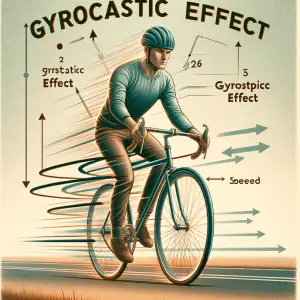 Balance
Common Misconceptions and the Truth
Let's set the record straight; there are plenty of myths swirling around about what keeps a bicycle balanced. Some folks think it's all about the wheels, while others swear by the frame design.
But here's the truth: balance is a complex dance between various factors, and it's time to debunk these myths once and for all.
By the end of this, you'll have a crystal-clear understanding of what really matters when it comes to keeping your bike steady and upright.
The Science Behind Bicycle Balance
Now, for those of you who love to dive deep, let's talk science. Bicycle balance isn't just about intuition; there's a whole lot of physics involved.
From rigorous studies to expert opinions, there's a wealth of knowledge out there that explains just how bicycles manage to stay upright. And don't worry, we'll break it down in a way that makes sense, even if you're not a science buff.
It's all about understanding the mechanics and appreciating the genius behind bicycle design.
How Design Influences Balance
Speaking of design, did you know that the way a bicycle is built has a huge impact on its balance? It's true! From the frame geometry to the size of the wheels, every little detail plays a role. And it's not just about aesthetics; it's about performance and stability.
So, whether you're a casual rider or a seasoned pro, understanding how design influences balance is key to finding the perfect ride. Let's dive in and discover how the right design can make all the difference.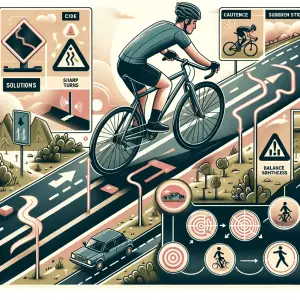 Enhancing Bicycle Balance
Tips for Improved Stability
Alright, let's talk about taking your bicycle balance to the next level. Whether you're a newbie or have been riding for years, there's always room for improvement. And guess what? Enhancing your bicycle's stability might be easier than you think.
From making small adjustments to your bike to adopting the right riding practices, there are plenty of tricks to boost your balance. And remember, like anything worth doing, mastering bicycle balance takes practice, practice, and more practice.
Training and Exercises for Balance
Now, if you're serious about improving your balance, there are specific exercises and training practices that can work wonders. Think of it as a workout routine for your riding skills.
From simple drills to more advanced techniques, there's a whole range of activities to help you find your balance sweet spot. And the best part? You don't need any fancy equipment to get started. So, grab your bike, find a safe space to practice, and let's get to work!
Equipment and Accessories for Balance
And for those who are looking to take things up a notch, there's a world of equipment and accessories designed to enhance bicycle balance.
From balance trainers that turn your bike into a stationary balance machine to ergonomic grips that offer better control, the options are endless. But with so many products on the market, how do you choose the right one for you? Don't worry; we've got you covered with advice on picking the perfect accessories to suit your needs and take your balance game to the next level.